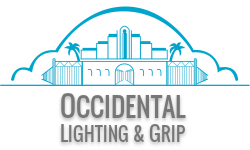 201 North Occidental Blvd.
East Hollywood, CA 90026
Ricky Stoutland
President
Phone: 213-384-3331
Fax: 213-384-2684
Email: Ricky Stoutland
Iggie Martinez
Sr. Vice President of Operations
Phone: 213-305-4263
Email: Iggie Martinez
Occidental Lighting & Grip
For the past two decades, Occidental Studios has supplied Lighting & Grip equipment as a related service to our studio clients. The overwhelming success of this production service has prompted Occidental to expand its inventory with over seven million dollars of state-of-the-art studio and location equipment.
Whether a large, complicated, long-running feature film or TV series; or simply a one day still shoot, Occidental Lighting & Grip will approach your project with same degree of focus and professional support – always striving to meet the ever-changing demands of production.
As you consider the needs of your next project, think of Occidental Lighting & Grip. Our team of professionals are here to serve you!
Lamps
Mole Richardson
Arri
ETC
Kino Flo
Ianiro
Chimera
Dedo light
Par Can
Barger
LTM
CMC
K5600
Grip
American Grip
Matthews
Modern Studio Equipment
Norms
Paladin
Hollaender
Fore Peak
Back Stage
Studio Carts
Cable/Distro
Mole
Dadco
AC Power
Paladin
Yellow Jacket
Lift
JLG
Skyjack
Hyster
Extreme
John Deere
Generators
2400 amp
1600 amp
1400 amp
1200 amp
1000 amp
750 amp
500 amp
6500 watt
2000 watt
An important note about our pricing: Our prices are extremely competitive and are subject to discounts according to the size of your order and the duration of your job. Please call us at 213-384-3331 for more information and to place an order or for an exact quote.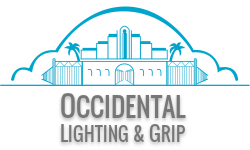 201 North Occidental Blvd.
East Hollywood, CA 90026
Ricky Stoutland
President
Phone: 213-384-3331
Fax: 213-384-2684
Email: Ricky Stoutland
Iggie Martinez
Vice President Operations
Phone: 213-305-4263
Email: Iggie Martinez